Introduction
Indira Awas Yojana is one of the largest rural social housing programs in the world, having built more than 25 million houses in the last 25 years. The Ministry of Rural Development allocated 100 billion rupees in the 2011 budget to cover the rural house deficit and has decided to go beyond supporting BPL families and cover all households without decent housing.

Commissionerate of Rural Development, Government of Gujarat recognise the need for better facilitation, appropriate technical advice, social mobilisation and capacity building to empower house owners for building better houses through Indira Awas Yojana.

Consortium of Hunnarshala Foundation, People in Centre Consulting, BuildAur and Thumb Impressions is collaborating to provide technical facilitation with mandate received from CRD. The objective is to ensure technical support for IAY implementation at district level through development of appropriate design options, technical guidelines for each option, prototype demonstrations and training.
The Project 
The project aims to effectively achieve the objectives of IAY by providing appropriate and affordable houses within the framework of the scheme. The empowerment of house owners forms the basis of the project framework. The whole process of technical facilitation focuses at empowering the community by instilling confidence in them to build their own "good", "safe" houses and enhancing the available typological options within IAY to give people choices according to their preference and priorities.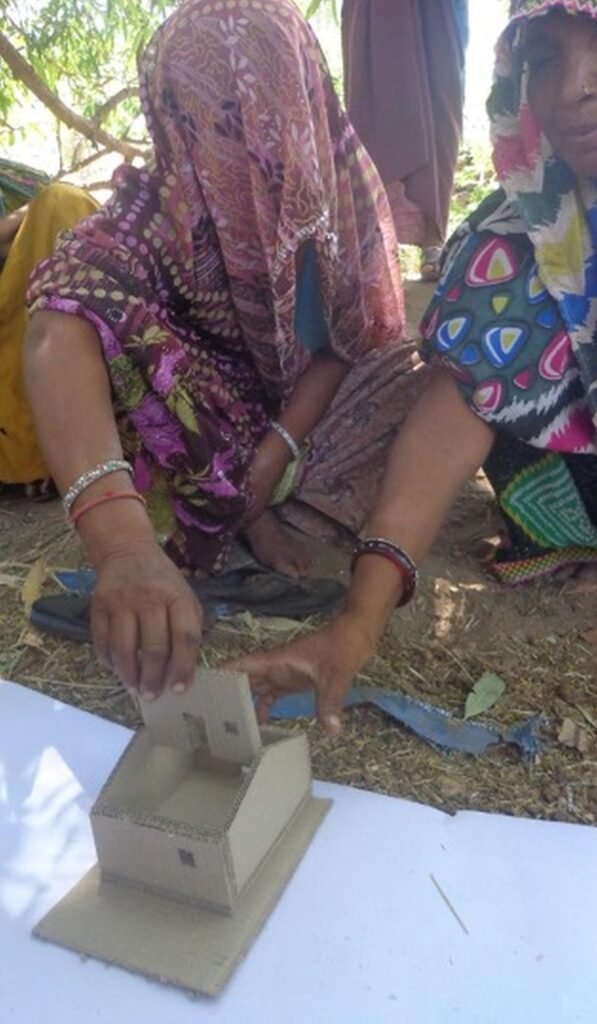 The Phases
 1. Study
The first phase was the study phase where the exiting typologies were studied and documented in the 5 zones indentified in Gujarat. The team of 41 members of comprising of architect, engineers and social workers did an extensive study covering 125 villages and documenting 108 houses. 153 IAY beneficiaries, 63 resource persons and 57 artisans were also interviewed as a part of the study. The findings were published and presented before the Technical Committee in Gandhinagar. The findings were accepted, green signalling the design phase. 
2. Design
The design brief for this phase focused on three aspects: acceptability, affordability and safety to effectively meet the needs and aspirations of the people. Appropriate designs were developed during this phase with extensive involvement of IAY beneficiaries, recourse persons, and artisans. They have been submitted to the Technical Committee with cost estimates and minimum technical guidelines.
3. Prototype Construction
Of the approved designs, about five designs will be selected for each zone for prototype construction. Along with the prototypes, demonstration modules and display boards and other media will be used for information dissemination. 
4. Training
The beneficiaries, masons and artisans shall be trained in the appropriate technologies and materials to build their houses. The state officials shall also be included in the whole training process so that a mutual understand develops between the officials and beneficiaries for the execution and acceptance of proposed technologies and materials.​